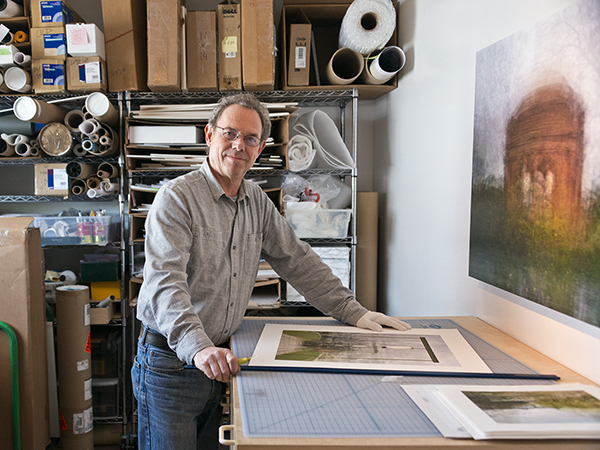 I like exploring the space between photography and painting,
using photographs as raw material to create new visual experiences.
---
ZOOM Fine Art Photography Magazine Pep Ventosa loves playing with the perception of reality, DECONSTRUCTING AND RECONSTRUCTING WHAT WE SEE; starting from the photograph as raw material, but then transforming and changing it. Normally, "we trust our senses and assume that what we see in a photograph is generally real," he explains, "so why not create something that doesn't exist to the naked eye?"
Esquire Magazine He adopts the creed of the photographer Hockney and his Picassian commitment to demonstrating that representational pictures (whether paintings or photographs) are as unrealistic and abstract as Guernica. PICASSO, HOCKNEY AND VENTOSA SHOW THEIR CARDS WHILE PERFORMING THEIR MAGIC TRICKS. They reveal in their own works the mechanisms of perspective and representation, corral the concept of the meta-narrative, of truth that gives a global meaning to the world, of a one-to-one panorama of what is real.

HuffPost ARTS & CULTURE Artist Makes Photographs Out of Photographs: Catalan artist Pep Ventosa's artwork CHALLENGES THE NOTION THAT A PHOTOGRAPH CAN CAPTURE ONLY ONE SPECIFIC MOMENT IN TIME. Ventosa's technique not only creates a visually striking image but reexamines the medium of photography itself. He deconstructs and reconstructs photographic images to interrogate what, and how, we see.
---

SELECT HONORS
Critical Mass's Top 50
(Fifty photographers, among thousands, were selected by
a jury of 200 museum curators, gallerists and other
photography professionals from around the world for
Photolucida's prestigious Critical Mass Top 50 competition.)
Grand Prize, American Icon Competition
First Prize, Piedmont Center for the Arts
People's Choice Award, PX3, Prix de la Photographie
Honorable Mention, Abstract, Photography Masters Cup
Editor's Pick, LensCulture
First Prize, Photography, Sausalito Art Festival
Honorable Mention, Abstract, International Color Awards
Silver Award, Prix de la Photographie, Paris
Jury Nomination, Architecture, Photography Masters Cup
3rd Place Winner, PX3, Prix de la Photographie, Paris
Honorable Mention, London International Creative Competition
First Prize, Photography, Artspan
Honorable Mention, Cityscapes, The International Photography Awards
Juror Selection, PX3, Prix de la Photographie, Paris
Top 50 Photographers selection, Positive Focus Body of Work
First Prize, National Photography Competition, Coastal Arts Gallery
Honorable Mention, Fine Art, The International Photography Awards
Finalist, Caminos de Hierro Concurso Fotografico
SELECT EXHIBITIONS
Crocker Art Museum, Sacramento, California
Viridian Artists Gallery, NYC, Jury selected by NY Guggenheim Museum Curator Robert Rosenblum
Smith Andersen North Gallery, PhotoAlliance, San Anselmo, California
Kathryn Schultz Gallery, Harvard Square, Massachusetts, Jury selected
by Robert Fitzpatrick, CEO/Pritzker Director at the Museum of Contemporary Art, Chicago
Piedmont Center for the Arts, Jury selected by Rene Guzman, Senior Curator of Art, Oakland Museum
of California, and Danielle Fox, Principal, SLATE Gallery
Sala dels Trinitaris, Vilafranca del Penedes (Barcelona)
Lumas Gallery, Budapest
Viewpoint Photographic Art Center, Sacramento
ARCO International Contemporary Art Show, with Palma Dotze Galeria d'Art, Madrid
Space 743 Gallery, California
Lumas Gallery, New York
Fotojatka, Czech Republic
Studio Gallery, San Francisco
DFOTO, Contemporary Photography Show, with Palma Dotze Galeria d'Art, San Sebastian, Spain
Kelly Street Gallery, Half Moon Bay, California
ARTissima, The International Fair of Contemporary Art, with Palma Dotze Galeria d'Art, Torino, Italy
Lumas Gallery, Moscow
ProArts Gallery, Oakland, California
Village Theatre Art Gallery, Danville, California
Arc Gallery, San Francisco, California
St. Louis Artists Guild, Missouri
Palma Dotze Galeria d'Art, Vilafranca del Penedes (Barcelona)
Coastal Arts League Gallery, Half Moon Bay, California
Sebastopol Center for the Arts, Sebastopol, California
ARCO International Contemporary Art Show, with Palma Dotze Galeria d'Art, Madrid
Museum of Contemporary Art, Center for Fine Art Photography, Ft. Collins, Colorado
Marin Society of Artists, National Exhibition, Ross, California
Caminos de Hierro, Jury selected by the Royal Photographic Society of Madrid